We Only Have One Thing to Say About Brie Larson's Prada Gown - "It Has Pockets!"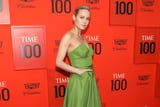 With Avengers: Endgame about to hit theaters, barely a day goes by without Brie Larson, aka Captain Marvel, hitting a red carpet in true superhero style. And if you thought she wouldn't be able to top Monday night's glamorous appearance in Celine, you just wait until you get a good look at the gown she chose for the Time 100 gala the following day. Brie was among those named on the prestigious list, and she looked every inch the influential A-lister as she stepped out in a bright green Prada gown with a strapless cut, a built-in belt, and everyone's favorite dress detail: pockets!
Brie made sure to show off the enviable outfit detail as she posed with one hand tucked in, keeping the look free of accessories so the custom dress could shine alone. Keep reading to take a closer look at this stunning gown from all angles, while we ponder what she'll wear next.
from POPSUGAR Fashion http://bit.ly/2IV7W3x