22 of the Most Outrageous Things Karl Lagerfeld Has Ever Said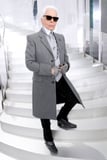 The world according to Karl Lagerfeld is one we know well, thanks to the designer's frequent one-liners, commentary on just about everything, and overall penchant for honesty above all else. The designer became as notorious for his candid, and sometimes controversial, interviews as he did for his work at Chanel and Fendi. In the past year alone, Lagerfeld kept people on the edge of their seats at runways shows when he turned the Grand Palais into a beach for Chanel's Spring 2019 show, launched a new makeup line with Karl-inspired packaging, and released a clothing line in collaboration with Kaia Gerber.
In honor of Lagerfeld's legacy, we're remembering him with some of our favorite Karl-isms, a zany mix of the most outrageous and the most colorful things he said.
from POPSUGAR Fashion http://bit.ly/2tCr8KV