3 Editors, 3 Different Styles: These $37 Jeans Are So Flattering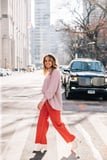 Flattering trousers? They're an enigma. There's a reason we're all so obsessed with The Sisterhood of the Traveling Pants, after all. That's why I audibly gasped when I slipped on these Wide-Leg High-Waisted Crop Pants ($37, originally $50). I got a preview of the latest POPSUGAR at Kohl's collection drop, and this design immediately called my name.
The flattering cut and bold red hue made these pants a standout piece, so I called upon two of my fellow editors to try them on as well. Spoiler alert: they love them too. We broke down exactly why this piece is our current favorite (with photos for proof, of course). They come in sizes 0-18, so a wide variety of body types can give these trousers a try. Read on to see how they look on all of us, then consider a pair for yourself.
from POPSUGAR Fashion http://bit.ly/2Gj2IOV