Ban.do Just Launched a New Pajama Line, Which Is 1 More Excuse to Stay on My Couch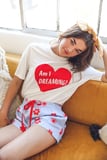 If I could live my life in pajamas, I would. There is no greater feeling than coming home after a long day at work and immediately changing into your PJs. Which is why, when we saw that Ban.do had launched the cutest new loungewear line, we jumped on board immediately. Whether you're obsessed with matching sets, more of a shorts and t-shirt kind of person, or been dying to try out a giant sleep shirt, Ban.do's got you covered. Now, the only question is, what do you want to wear first?
Related: Cozy Loungewear That's Brunch Appropriate - and Under $100!
from POPSUGAR Fashion https://ift.tt/2IvYQMj