Beyoncé's Valentine's Day Outfit Is the One I Love, the One I See, and the Only One I Need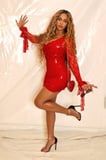 Celebrities certainly went all out with their Valentine's Day looks this year. Kendall Jenner took the plunge in a bright-red crop top, Priyanka Chopra was serenaded in a sultry, skintight jumpsuit, and now we've gotten a glimpse of what Beyoncé wore on the romantic holiday. Disclaimer: it's totally OK if you go all "heart eyes" over her dress.
The 37-year-old singer shared photos of her outfit from Valentine's Day on her website. She opted for a red-hot Christopher Kane lace minidress and Jimmy Choo strappy sandals, with matching sunglasses and a jeweled heart-shaped purse for good measure. Beyoncé always has every detail covered! See her look from all angles ahead, and shop similar dresses for yourself.
from POPSUGAR Fashion https://www.popsugar.com/fashion/Beyoncé-Wears-Red-Dress-Valentine-Day-2019-45806131