Charlize Theron Looks Like a Badass Cinderella at the Oscars, and I'm Beside Myself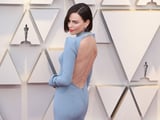 When I say that Charlize Theron looks incredible at the Oscars, I mean it. The actress showed off her new brunette locks on the red carpet in a Dior Haute Couture gown that hugged each and every single one of her curves.
Charlize's turtleneck gown featured bold shoulders and came in a gorgeous baby blue hue. When she turned to the side we saw that her dress actually had a huge cutout on the back that dipped real low. She accessorized with a Bulgari necklace and bracelets. Read on to see all angles of her sexy gown ahead.
from POPSUGAR Fashion https://ift.tt/2IyVrfF