Did Gucci Just Reveal the New Sneaker Shape of 2019?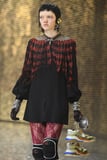 Despite Alessandro Michele's approach to designing whimsical, costume-like runway looks for Gucci, the collections usually include a few street style statement pieces that become hits. Of course, given Gucci's current status in the fashion industry - the brand recently faced backlash for its blackface designs and has landed in hot water for cultural appropriation in the past, namely when turbans were sent down the Fall 2018 runway - it's impossible to know what will stick. But it may not come as a surprise that the one accessory that stood out at the Milan Fall 2019 fashion show was the sneakers.
Models carried them like roller blades they were set on switching into after they kicked off their platforms. The shape is a little more simple than a chunky dad trainer, and it comes with gray laces, a mesh upper, and a retro, metallic flash. The "G" logo has been manipulated with a sporty update. You might have found these tennis shoes in your grandpa's garage as a kid and thought, "Hey, these are kinda neat!" But will they make their way onto the feet of bloggers and front-row celebrities soon? All we know for sure is that they were impossible to miss.
from POPSUGAR Fashion https://ift.tt/2E2UU0a