If Cher Horowitz Had a Lookalike, It'd Be Priyanka Chopra in This Michael Kors Skirt Suit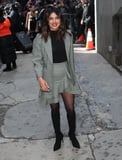 In case there was any confusion here, what I'm about to show you is NOT a series of photos of a Cher Horowitz doppelgänger - it's actually Priyanka Chopra channeling her inner '90s cool girl during New York Fashion Week. The actress stepped out at Michael Kors's Fall 2019 runway show on Wednesday looking like she just got finished raiding the Clueless character's closet, and we're not exactly mad about it considering the growing list of '90s-inspired fashion trends that are popping up all over 2019.
To support the designer, Priyanka wore a gray-and-black plaid skirt suit with an asymmetric hemline from Michael Kors's upcoming collection. She paired the suit with a black turtleneck and a pair of black tights and finished her look off with black, over-the-knee boots from Stuart Weitzman. To be honest, she likely didn't mean to look like our '90s fashion queen, but we still can't help but see the resemblance. Scroll ahead to see more photos of her outfit from all angles.
from POPSUGAR Fashion http://bit.ly/2TP0Dx5