Jason Momoa and Lisa Bonet Matching at the Oscars Is the Type of Love We All Deserve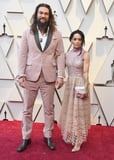 Hello, there! I'm just stopping by to remind any potential suitors out there that if you're not willing to walk a red carpet with me in a matching pink ensemble, then you're not the one for me. The bar has officially been raised thanks to Jason Momoa and Lisa Bonet, who arrived at the 2019 Oscars looking like the very definition of "relationship goals" in color-coordinated Fendi outfits, both of which were pieces from Karl Lagerfeld's final collection with the label.
Jason wore a light pink velvet tuxedo that he accessorized with a matching pink scrunchie and patent leather boots, while Lisa dazzled in a caged tulle gown embellished with beads and flowers over a sparkly jumpsuit. She finished off her look with a pair of pointed toe booties in the same color. Read ahead to see the couple's outfits from all angles.
from POPSUGAR Fashion https://ift.tt/2SmFyZu