Meghan Markle Begins Her Moroccan Tour in 1 of the Most Glamorous Travel Outfits We've Ever Seen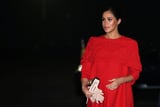 Prince Harry and Meghan Markle have landed in Morocco for a short tour of the North African country. The duke and duchess are visiting Morocco on behalf of the British government, and their tour will focus on learning more about youth empowerment and girls' education in the country, causes that are close to both of their hearts.
The trip is set to include a whole host of events, including cooking demonstrations, a henna ceremony, and an evening reception, so we can expect many outfit changes from Meghan in the next few days. She definitely kicked things off in style after the short flight from London, when she stepped off the plane in Casablanca wearing a gorgeous red Valentino dress with off-the-shoulder cape detail, her second chic travel look in less than a week. Keep reading for all the photos, and stay tuned for more from this miniature royal tour.
from POPSUGAR Fashion https://ift.tt/2VeYlrh