Paulina Porizkova Is a 53-Year-Old Grandmother and, Yes, a 2019 SI Swimsuit Issue Model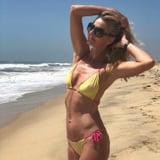 Paulina Porizkova knows a thing or two about aging gracefully. The 53-year-old model first appeared in the Sports Illustrated Swimsuit Issue in 1983, and 36 years later, she's back for the upcoming 2019 issue. While SI has become more inclusive of different body types and models over the years, Paulina was still surprised to be "the oldest 'girl' in the SI stable," she told People.
"My second thought was, oh, yeah, sh*t, that means I will have to pose in a bikini with a bunch of 20 year olds," Paulina said about her reaction to appearing in her 10th SI Swimsuit Issue. "It was at once thrilling and disconcerting. Although I am militant about aging women still being sexy and beautiful, I don't always feel that way. But refusing was out of the question. I was honored to be invited to break a barrier. I would just have to suck it up, or IN, rather, and hope for a photographer who knew his light."
Related: An All-Female Crew Shot This Stunning Nude Sports Illustrated Photo Series
One look at Paulina's photos, and it's no surprise to see her still crushing modeling shoots - she's stunning! In fact, her photos in the 2019 Swimsuit Issue, which is out this May, bear a striking resemblance to her photos from 30 years ago, thanks to the teeny-weeny bikinis. "I wore exactly the same type of bikinis and bathing suits I would have worn 30 years ago," she told the site about her shoot. "In one instance, almost less with nothing but a G-string and a hat."
She posed nude in last year's SI Swim Issue alongside Aly Raisman, Sailor Brinkley Cook, and more. But it's not all bikini photo shoots for Paulina. The Czech-born beauty is an actress, an all-around family woman, and a feminist. She has two sons, two grandsons, and is "surrounded by step-granddaughters, nieces and goddaughters."
Sports Illustrated reports that Paulina's 10th SI Swimsuit photos were shot on the beaches of Watamu, Kenya, by photographer Yu Tsai. We'll have to wait until May for the release of the 2019 SI Swimsuit Issue, but until then, read on to see Paulina's gorgeous photos and prepare to be in awe.
Related: Meet Raine Michaels, the Inspiring Sports Illustrated Swimsuit Model With a Rockstar Family
from POPSUGAR Fashion http://bit.ly/2TwwR02