12 Festival Styling Hacks to Steal From Celebrities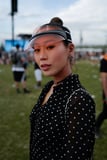 At music festivals, we've seen it all - barely there bikini tops, endless neon, and plenty of too-flowery flower crowns - but this year, festival season style is decidedly different. Instead of the brazen looks of yesteryear, we're drawn to the laid-back and bohemian pieces we've spotted on some of our favorite style stars.
Fashionable women like Kate Bosworth and Kendall Jenner offer proof that casual-cool style is easy to attain if you know what to shop for. From breezy scarves to trendy visors, get inspired to plan your outfits right now, since there's no such thing as starting too early. Scroll through for some A-list inspiration plus a packing list to help you get started, because festivals are never just about the music.
from POPSUGAR Fashion https://ift.tt/2ouD6Fh