Meghan Breaks the Fashion Rules Again With Her Latest Laid-Back Outfit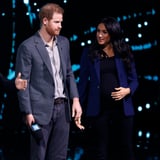 We've never been fans of prescriptive fashion rules, like "blue and green should never be seen" or "don't mix metals", and it seems that Meghan Markle is right there with us. Not content with pushing the boundaries when it comes to royal protocol, Meghan also likes to take risks when it comes to her wardrobe, and a look that's quickly becoming a go-to for the royal just happens to break one of those old-fashioned style rules.
We all know the Duchess of Sussex loves to wear black, but recently she's started mixing it with navy and dark blue. Navy and black is a color combination that used to be a big fashion "no", but over recent years it's become a super stylish option. Meghan's smart-casual looks prove that this look can work, and when she stepped out at the WE Day UK event wearing a dark blue blazer over a black top and skinny jeans, she gave us serious work wardrobe inspiration. Keep reading for a look at Meghan's latest look, and to shop some statement blazers for yourself.
from POPSUGAR Fashion https://ift.tt/2TEwoMJ