Sneak Peek: Check Out EVERY New Piece From the POPSUGAR at Kohl's April Drop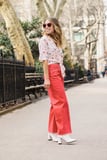 Did you get the memo? Spring is officially here, and while we know you've started prepping new-season outfits, you're surely in need of a few more dresses, tops, skirts, and jeans. What's that? You want affordable, on-trend options that won't bankrupt you? You're in luck, because we're here to present all the new pieces from the POPSUGAR at Kohl's April drop.
With a range of perfect-for-Spring pieces that includes cute camp shirts, feminine dresses, crazy-comfortable (and flattering!) jeans, utilitarian jumpsuits, and the cutest puff-sleeve top you ever did see, you'll be set for every occasion on your Spring calendar. Officially hitting stores on April 8, click through to preview all 44 pieces ahead.
from POPSUGAR Fashion https://ift.tt/2TsVaLv