The Most Magnificent Maxi Dresses You've Ever Seen Just Hit Zara's Website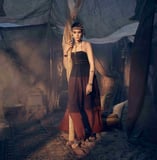 One of the latest runway trends we're most excited for is the return of the maxi. Of course, Zara's already offering us our fashion fix by rolling out the silhouette for its new Studio collection. The Spring and Summer clothes are made for the luxurious traveler - the girl who'd walk through the desert in a glamorous, flowing gown (think Sex and the City 2) - and the campaign, shot by Steven Meisel, reflects that.
But our excitement isn't just limited to the bell-sleeved caftans and floor-length crochet designs. The accessories bring these looks full circle. The jewelry is made of colorful gemstones and limestone pendants, the bags of gorgeous woven fabric and beads, and the shoes of dyed suede, braided wicker, and leather. In fact, we've got your first look at some of these pieces that haven't even hit the website yet. Read ahead to embrace Zara's new vibe, then shop for what's available now.
from POPSUGAR Fashion https://ift.tt/2TnysEo