This Pink Utility Jumpsuit Will Change Your Whole Wardrobe For Less Than $100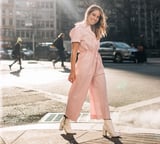 Who doesn't love the beauty of a one-and-done outfit? Jumpsuits are the greatest option for that sort of look because they're functional too. You don't have to worry about your dress flying up on a windy day, and even in dark denim, the silhouette is a little more exciting than your average pair of jeans. While I own a true blue, short-sleeved jumpsuit with '80s exaggerated sleeves and a tapered leg, and even this exact POPSUGAR at Kohl's utility piece in military green, this pink iteration, which retails for $68, has changed my life.
I've never received so many compliments on one single outfit, and you'd be shocked to see how many head turns I got when I stepped onto the street in this number. Equipped with my go-to white mod booties, some cool cactus earrings, and nothing more, I felt as light as a cotton-candy confection in pastel. While I have always gone by the rule that darker-toned slacks make me feel sexier and more confident, that notion suddenly seemed to evaporate into thin air.
It's not just the Spring-appropriate shade that attracted me to this design, but the wide leg, cropped fit, and perfect cinch at the waist, allowing women of all shapes and sizes to accentuate their curves, play with proportions, and show off a new shoe. While wearing sugary pink isn't exactly the most daring trend in 2019, it takes a strong, stylish woman to bring the color the sophistication it deserves. In this throw-on-and-go jumpsuit, anyone can be her.
from POPSUGAR Fashion https://ift.tt/2SKn8Sx