Vans Is Dropping a Harry Potter Sneaker Collection, and Holy Hagrid, We're Siriusly Psyched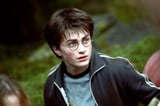 It's finally happening, folks: Vans is teaming up with Harry Potter to release a collection inspired by the magical book series, and bloody hell, we can't wait for everything to Slytherin to our closets! The forthcoming collaboration will involve sneakers, clothing, and accessories, and from the looks of the official Vans x Harry Potter landing page, some of the designs may pay homage to the four Hogwarts houses. I don't know about you, but our fingers are crossed for a metallic pair of sneakers modeled after the elusive Golden Snitch.
For now, the Vans team is keeping its lips sealed on when the collection will drop, but we do know that when it does, all of the items will be available for purchase both online and in stores. Needless to say, wizards, witches, and Muggles alike are siriusly freaking out about the collaboration, as evidenced by the Twitter reactions from Potter-obsessed sneakerheads who are already gathering their galleons in anticipation. Check out the official announcement ahead, then head over to vans.com/harrypotter to stay in the loop about the release.
from POPSUGAR Fashion http://bit.ly/2XHTKzn