RSVP to Every Wedding, Because We Found the Prettiest Guest Dresses at Anthropologie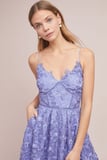 As the wedding invitations begin to trickle in this season, so does the (dire) need for the perfect guest dress. Luckily, one of the best things about Spring and Summer weddings is the flexibility you have in choosing what kind of dress to wear. Floral prints, silk slips, and ruffled hems are more than welcome, which makes the options endless.
In case you still aren't sure what to wear, we found some of the most versatile, chic, and glamorous dresses we could - all that can be worn time and time again. Thanks to Anthropologie, with its variety of sizes and countless designs, you're bound to fall in love with more than a couple of these. Who says only the bride can sayyes to the dress?
from POPSUGAR Fashion http://bit.ly/2OXNaBp